NEW SHOW DATES ANNOUNCED
Master Promotions Ltd., has made the decision to re-schedule the start of the New Brunswick Sportsmen & Fly-Fishing Show by 14 days. The event will now take place April 8-10, 2022 at the Moncton Coliseum.
A number of factors contributed to this change, such as delayed start of the trade show season and facility availability which is causing us to shuffle our calendar of events in this case by two weeks.
About the Show
The perfect start to the season for the hunting and fishing communities, this event welcomes outdoor enthusiasts from throughout the Atlantic region. There's something for seasoned veterans, newcomers, and everyone in between. Get excited for educational seminars, retrieving demos, and so much more!
Exhibit in the Show
The New Brunswick Sportsmen & Fly-Fishing Show has been the go-to event for outdoor enthusiasts for years. Make an impression on thousands of eager customers looking for new products.
PLUS, Co-located with the Moncton Boat Show - the combined audience allows for the opportunity to expand your sales and attract new customers!
Visit the Show
Two great shows - one huge weekend! With the Moncton Boat Show under the same roof, this is one outdoors event you won't want to miss. Everything you'll need for the upcoming fishing & hunting seasons - all in one location!
PARTNER
The Dieppe Fly Tying Club is a group of fly tiers in the greater Moncton area. The group was formed in 1999, with the goal of creating links between fly fishermen and sharing in the pleasure of fly tying, fly casting and exchanging information on our passion, fly fishing.
The Dieppe Fly Tying Club is an affiliate to The New Brunswick Salmon Council and the New Brunswick Wildlife Federation. For more information: dieppeflytying.com
Date, Time & Location
Friday, April 8, 2022
10:00 am - 9:00 pm
Saturday, April 9, 2022
10:00 am - 7:00 pm
Sunday, April 10, 2022
10:00 am - 5:00 pm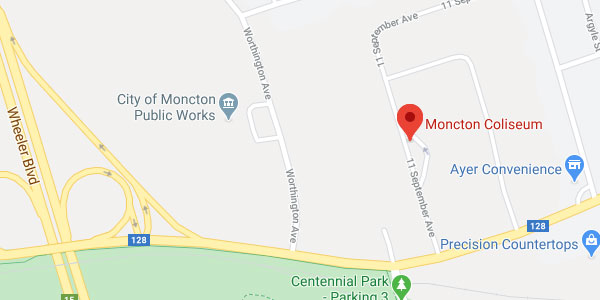 Moncton Coliseum Complex
377 Killam Drive, Unit 100
Moncton, New Brunswick
E1C 3T1
(506) 857-4100
Admission
$12 Adult
$10 Junior
$10 Senior
$30 Family Pass (2 Adult & 2 Junior)